---
The Mabton School District Seeks Candidates For Vacant School Board Position
The Mabton School District announces that it is seeking applications from qualified individuals to fill the vacant school board director position for Director - At Large.
For patrons interested in applying for the vacant school board position, please
Click Here
. Applications are also available at the Mabton School District Administration Office located at 306 North Main Street.
Please direct any questions about the process to Superintendent, Minerva Morales at (509) 894-4852 or by email at
moralesm@msd120.org
.
---
Flag football league inspiring strong efforts in the classroom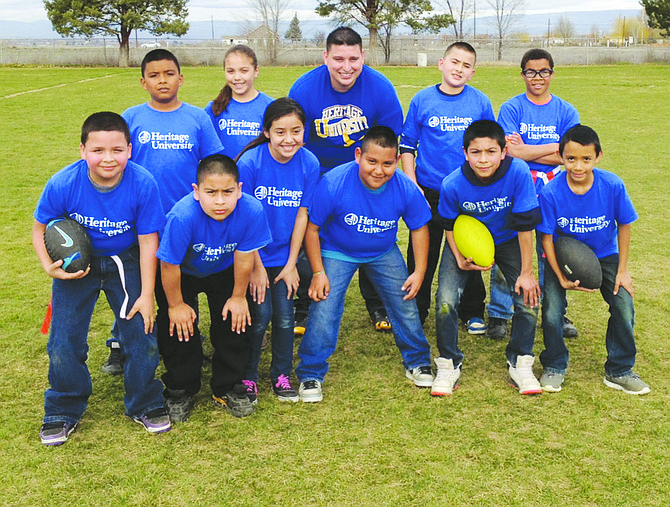 The Wild Cats are one of Artz Fox Elementary School's fourth grade football teams. Pictured are (back row L-R) Lisandro Solarzano, Melanie Gonzalez, Heritage University student teacher Alex Diaz, Samuel Vazquez and Nehemiah Medrano; (front row L-R) Gustavo Esparza, Moises Navarette, Ashley Pineda, Austin Tzib, Christian Silva and Omar Jaramillo
Please congratulate Jessica Vazquez! Jessica was elected to serve as the 2015-16 District IV FFA President. She will be responsible for coordinating activities and meetings for the district, which consists of 25 chapters in the Yakima Valley and Tri-Cities.
Congratulations to Jessica Gorman, Miguel Gonzalez, and David Jimenez, who competed at FFA Districts in Prosser. Jessica placed 3rd in Prepared Public Speaking, Miguel placed 3rd in Extemporaneous Speaking, and David placed 6th in Creed Speaking. Jessica and Miguel have qualified to compete at the State FFA Convention in May.
ACADEMIC SUCCESS FOR ALL STUDENTS!
MABTON SCHOOL DISTRICT is one of 46 schools awarded the Career Guidance Award of Excellence from the Office of Superintendent of Public Instruction (OSPI) for their exemplary career and college readiness programs. Award winning schools operate highly effective, inclusive guidance and counseling programs. Mabton's vision is to engage students in rigorous, stimulating and meaningful learning experiences that result in all students graduating with the skills to be successful in college, career and life.
Thank you to all our staff and parents and for their contributions to the successes of Mabton students.